Posts for tag: pediatric dentistry
By Andris Family Dental
May 14, 2018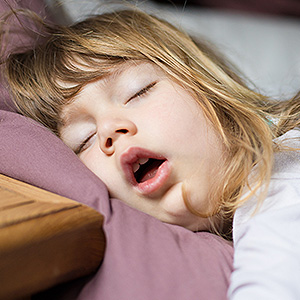 Many things can affect your child's future dental health: oral hygiene, diet, or habits like thumb sucking or teeth grinding. But there's one you might not have considered: how they breathe.
Specifically, we mean whether they breathe primarily through their mouth rather than through their nose. The latter could have an adverse impact on both oral and general health. If you've noticed your child snoring, their mouth falling open while awake and at rest, fatigue or irritability you should seek definite diagnosis and treatment.
Chronic mouth breathing can cause dry mouth, which in turn increases the risk of dental disease. It deprives the body of air filtration (which occurs with nose breathing) that reduces possible allergens. There's also a reduction in nitric oxide production, stimulated by nose breathing, which benefits overall health.
Mouth breathing could also hurt your child's jaw structure development. When breathing through the nose, a child's tongue rests on the palate (roof of the mouth). This allows it to become a mold for the palate and upper jaw to form around. Conversely with mouth breathers the tongue rests behind the bottom teeth, which deprives the developing upper jaw of its tongue mold.
The general reason why a person breathes through the mouth is because breathing through the nose is uncomfortable or difficult. This difficulty, though, could arise for a number of reasons: allergy problems, for example, or enlarged tonsils or adenoids pressing against the nasal cavity and interfering with breathing. Abnormal tissue growth could also obstruct the tongue or lip during breathing.
Treatment for mouth breathing will depend on its particular cause. For example, problems with tonsils and adenoids and sinuses are often treated by an Ear, Nose and Throat (ENT) specialist. Cases where the mandible (upper jaw and palate) has developed too narrowly due to mouth breathing may require an orthodontist to apply a palatal expander, which gradually widens the jaw. The latter treatment could also influence the airway size, further making it easier to breathe through the nose.
The best time for many of these treatments is early in a child's growth development. So to avoid long-term issues with facial structure and overall dental health, you should see your dentist as soon as possible if you suspect mouth breathing.
If you would like more information on issues related to your child's dental development, please contact us or schedule an appointment for a consultation.
By Andris Family Dental
July 24, 2017
When it's time for your child to visit the dentist (we recommend around their first birthday), you may want them to see your family dentist. But you might also want to consider another option: a pediatric dentist.
The difference between the two is much the same as between a pediatrician and a family practitioner. Both can treat juvenile patients — but a family provider sees patients of all ages while a pediatrician or pediatric dentist specializes in patients who haven't reached adulthood.
Recognized as a specialty by the American Dental Association, pediatric dentists undergo about three more years of additional post-dental school training and must be licensed in the state where they practice. They're uniquely focused on dental care during the childhood stages of jaw and facial structure development.
Pediatric dentists also gear their practices toward children in an effort to reduce anxiety. The reception area and treatment rooms are usually decorated in bright, primary colors, with toys and child-sized furniture to make their young patients feel more at ease. Dentists and staff also have training and experience interacting with children and their parents to help them relax during exams and procedures.
While a pediatric practice is a good choice for any child, it can be especially beneficial for children with special needs. The "child-friendly" environment is especially soothing for children with autism, ADHD or other behavioral/developmental disorders. And pediatric dentists are especially adept in treating children at higher risk for tooth decay, especially an aggressive form called early childhood caries (ECC).
Your family dentist, of course, can presumably provide the same quality care and have an equally welcome environment for children. And unlike a pediatric dentist who will typically stop seeing patients when they reach adulthood, care from your family dentist can continue as your child gets older.
In the end it's a personal choice, depending on the needs of your family. Just be sure your child does see a dental provider regularly during their developing years: doing so will help ensure a lifetime of healthy teeth and gums.
If you would like more information on visiting a pediatric dentist for your child's dental needs, please contact us or schedule an appointment for a consultation. You can also learn more about this topic by reading the Dear Doctor magazine article "Why See a Pediatric Dentist?"