Posts for tag: shingles
By Andris Family Dental
March 15, 2018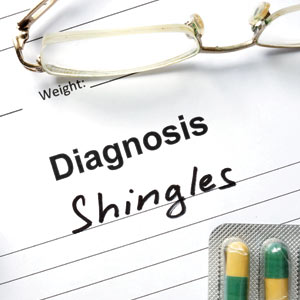 It may begin as an itching or burning feeling on your skin, followed by numbness or sensitivity to touch. But then you develop a painful red rash that forms crusty lesions. Fever and fatigue may follow.
These are the common symptoms for a form of chicken pox called shingles, a contagious disease from the human herpes group of viruses. While anyone can contract the shingles virus, it most often lies dormant in a person's nervous system for decades after an earlier bout of chicken pox. It then breaks out (sometimes repeatedly), usually in patients over fifty.
A shingles outbreak can be miserable. It could also affect your dental care, especially if you have a rash on your face and neck. Here are 3 things you should do if you have shingles in regard to your dental care and overall health.
Tell your dentist you have shingles. A shingles outbreak is highly contagious in its early stages and can spread from direct contact with blisters or through airborne secretions from the infected person's respiratory system. Even a simple teeth cleaning (especially with an ultrasonic device) at this stage could spread the virus to staff and other patients. So inform your dentist if your appointment coincides with an outbreak—it may be necessary to re-schedule your visit.
Start antiviral treatment as soon as possible. If you're diagnosed with shingles, more than likely your doctor or dentist will recommend immediate antiviral treatment (typically acyclovir or famciclovir) within 3 days of symptom onset. This can help speed up healing, alleviate pain and possibly prevent more serious complications.
Get the shingles vaccine. Of course, you don't have to wait for shingles to occur—there is an effective vaccine that could help prevent an outbreak. If you've had chicken pox (over 90% of American adults have) or you're over sixty with or without previous chicken pox, the U.S. Centers for Disease Control recommends you get vaccinated.
If you would like more information on shingles and how it may affect your dental health, please contact us or schedule an appointment for a consultation.
By Andris Family Dental
July 01, 2017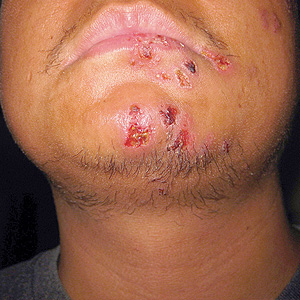 If you had chicken pox as a child, you're at higher risk for a painful viral infection later in life called shingles. Besides a painful skin rash and other symptoms that can develop, shingles could also affect your dental care.
About 90% of children contract chicken pox, a disease caused by the varicella zoster virus (VZV), which usually clears up on its own. But later in life, usually after age 50, about a quarter to a third of chicken pox patients will develop shingles.
The onset of shingles usually produces an itching or burning sensation on the skin that's either numb or overly sensitive to the touch. A red rash may ensue with crusty lesions, accompanied sometimes by pain, fever and fatigue. The rash often forms a belt-like or striped pattern along one side of the face or body.
For most patients this painful rash is the extent of their symptoms. But women who are pregnant, patients undergoing cancer treatment or people with compromised immune systems are at risk for more serious complications if they contract the disease. It's important for these at-risk patients to obtain a vaccination, as well as avoid contact with anyone with shingles.
Which brings us to your dental care: in its early stages shingles can be contagious, the virus passing to others through skin contact or by airborne respiratory secretions. That's why it's important if you're currently experiencing a shingles episode that you let us know before undergoing any kind of dental work.  Even a routine teeth cleaning with an ultrasonic device could disrupt the virus and increase the chances of it spreading to someone else. We may need to postpone dental work until the virus is under control.
Antiviral drugs like acyclovir or famciclovir are highly effective in bringing the disease under control, especially if treatment starts within three days of the onset of symptoms. And don't forget the shingles vaccination: the U.S. Center for Disease Control recommends it for anyone 60 or older regardless of a past history with chicken pox.
See your physician as soon as possible if you begin to notice symptoms. Don't let shingles interfere with your life — or your dental care.
If you would like more information on the impact of shingles and similar viruses on dental care, please contact us or schedule an appointment for a consultation.